| OLD NEWS | OLD BAND PHOTOS | OLD SHIT |


| 2019 News | 2018 News | 2017 News | 2016 News | 2015 News |




Happy new year everybody! 2017 will be a very exciting year for us, a new album and a cassette box-set will be released, and also new merchandise, music videos and whatnot. And hopefully we'll do some shows. Stay tuned! Now let's drink champagne! Cheers!
December 31, 2016


---


A date is now confirmed. Our new album Within the Sphere of Ethereal Minds will be released April 28 by Dark Descent Records. CD, digital and vinyl formats of course.
Side 1:
1. Bloodsoaked Sunrise 2:54
2. From the Crimson Fog They Emerged 4:22
3. Embodiment of Source 5:33
4. Scars of a Land Forgotten 3:20
Side 2:
1. In the Grip of Awakening Times 3:40
2. Silent Waves Summoned Your Inner Being 3:17
3. A Black Veil for Earth 8:31
4. The Drowning Light at the Edge of the Dawn 4:06




December 06, 2016


---
A photo of SARCASM new line-up. Due to health issues etc Fredrik had to leave the band prior to the recording of the new album, and Henrik left because he had to focus on his other projects and stuff and felt that he had very little space left for this band. Although neither of them were involved in the songwriting process of the album it was still sad to see them leave, and we wish them all the best. The replacement for Fredrik is once again Anders Eriksson, Anders who played guitar on our first album was thrilled to come back to this band again. And the one who replaced Henrik is Jonas Söder, an excellent bass player who played with Peter in several bands in the 90's. The new album is now completely recorded and will be mixed next week by mr Lawrence Mackrory at Studio Maskinrummet.

L-R: Anders Eriksson: Guitars, Peter Laitinen: Guitars, Matte Modin: Drums, Heval Bozarslan: Vocals, Jonas Söder: Bass




November 2, 2016


---

Here's some cool news. All our 6 demotapes will be released as a very limited cassette box-set the second half of 2017. The tapes will have their original artwork etc. There will be some more cool things included in the box, more info and details coming soon.
The demotapes are:
Fleshwaste (1992)
Soul Enchantment (1992)
In Hate... (1992)
Dark (1993)
Demo (1993)
A Touch of the Burning Red Sunset (1994)



October 23, 2016



---


Here's the cover art for the new SARCASM album "Within the Sphere of Ethereal Minds". The art was done once again by Raul Gonzalez Art, we loved that skeleton dude so much so we used him again (He's our mascot now, we call him Sarcor) And continues on the back cover with planets and awesome stuff, only those who buy the LP/CD will see it ;) It's not a concept album but a thematic one (hope you know the difference) and it's all about cosmos, the power of the mind, laws of the universe, the great vortex, spiritual realms etc. Almost everything written in the "non-physical's point of view" (absolutely not religious, on the contrary lol) A philosophical and interesting journey through mind indeed. As you probably know, the lyrics of this band are as important as the music, and we don't just do some lyrics about zombies and stuff, which is also cool but not for us. The music is like the first album very melodic, in many ways faster and a bit shorter songs. The album will be released in march on Dark Descent Records One of the songs can be heard very soon. And a music video etc etc. Just stay tuned.. Cheers!
Within the Sphere of Ethereal Minds:
Side 1:
Bloodsoaked Sunrise
From the Crimson Fog They Emerged
Embodiment of Source
Scars of a Land Forgotten
Side 2:
In the Grip of Awakening Times
Silent Waves Summoned Your Inner Being
A Black Veil for Earth
The Drowning Light at the Edge of the Dawn

October 13, 2016

---
A pic from some gig we did in 94. We are at this moment creating a new web page where we will have lots of old stuff, news, info etc


October 12, 2016
---


We'll have some album details, cover art etc shortly, here's Heval screaming his brains out in the studio. Lots of raaaaaaahs and aaaaarrgghhs will be on the new album as shown in the photo.
Cheers!

October 6, 2016


---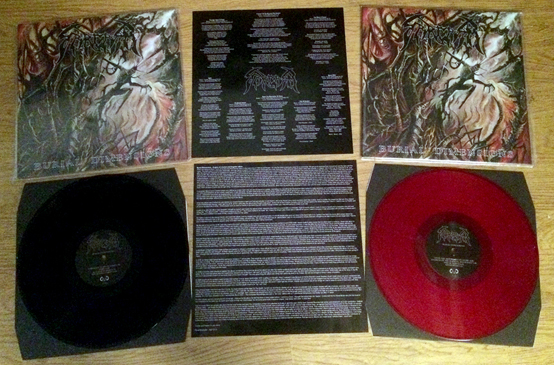 Previously unreleased until 2011's triple LP compilation Never After - The Complete Recordings, then last years 2CD compilation and now finally, the 1994 Burial Dimensions album gets it's first stand-alone vinyl release. The album has been remastered for this release and includes an insert with lyrics and an extensive line notes written by our singer, explaining the story behind the album and why it wasn't released back then etc. Black and limited translucent red vinyl.
Released by Dark Descent Records this month, and can also be ordered from the band: sarcasmsweden@gmail.com or send PM here.
$14/€13/120SEK (black vinyl) $18/€16/150SEK (red vinyl)
Burial Dimensions 2-CD: $12/€11/100SEK
+shipping!
We still have some medium and large shirts left. The shirts are gildan soft. $14/€13/120SEK. Cheap as hell so grab one while you can before we make new ones.
Cheers!

July 17, 2016


---

The Burial Dimensions vinyl can now be pre-ordered here. Black and limited transparent red vinyls.



June 08, 2016
---
The recording of the new album "Within the Sphere of Ethereal Minds" has begun (sooner than expected) and will proceed til september. The album will be mixed in october and will be released beginning of 2017 by Dark Descent Records.

June 6, 2016



---
SARCASM is the band of the week at Bazillion Points. Check it out here!


April 21, 2016



---
Recently we've had discussions in the band whether to continue or to dissolve the band after our drummer Oscar Karlssons passing. These things are never easy, especially when a member is also a close friend. But after much talk we have decided to keep the train rollin' and complete the songs and record the album. First and foremost because Oscar loved these new material so much and for the past six months till his passing he kept telling us how important it is that we record and release these new songs, and he is right as he always was. To stop everything now is not something he'd wish us to do. That we are certain of. And the one who can truly do the new songs justice is the one and only Matte Modin, who will be playing drums on the new album. Besides being an excellent drummer Matte is also an old friend of the band and played in different projects in the past with some of our band members. We're thrilled to have him on board. The album which will be entitled "Ethereal" will be recorded in july. Album details coming soon.
April 16, 2016
---

A tribute to Oscar Karlsson in the Iron Fist Mag. Click here to read


March 7, 2016

---


We are deeply saddened by the news of our drummer and dear friend Oscar Karlsson passing. It's unclear at this moment what happened. Our deepest condolences to his girlfriend Sandra and his family. R.I.P. Oscar Karlsson till we meet again.
We'll keep you updated about this bands situation.


March 4, 2016

---

Almost the whole new album has been written now, it will probably be recorded this summer, album title and track listing coming soon. And Burial Dimensions is on Spotify now in case you didn't know. Cheers!

February 18, 2016