Lasse's slotpage
Åtvidaberg, Sweden, Saloon cup 15:th Nov. 2003
ÅMK hosted the fifth round in Sveslot's Saloon cup.
I do not have much of results but they will soon be found at www.sveslot.org.
Instead you will have some images to watch.


Nice wall painting in the ÅMK club room.
Åtvidabergs Motor Klubb does not only have slotracing on their program, they organize rally races among other motorsport activities.
Rune Syvén, once among the top runners in Sweden, made a visit to Åtvidaberg and borrowed a car.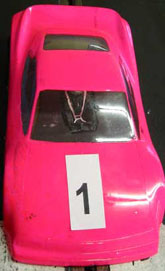 Rune Syvén and his car.

Other well known faces from international racing was the current World Champion in Eurosport and F1, Michael Landrud and Mr. Berra.


Michael Landrud and Mr. Berra