Lasse's slotpage
RL Nats 2003, 19-20 April, Mönsterås, Sweden

Some cars before qualifying. Jari Portinen, Stefan Törnfeldt, Anders Gustafson, Per Persson and Lasse Åberg.
During the Easter weekend the Mönsterås club "Team 21" hosted the annual RL Nats with Andy Wasserman as the excellent race director.
Unfortunate was that the printer did not work and there was no way to replace it so results are sparse.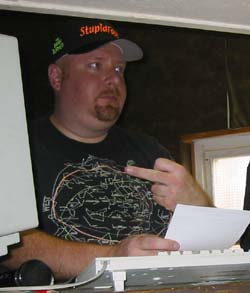 Andy Wassermann

G 7 Warm-up
The qualifying were fast which surprised a lot of people since the track was not that well prepared.
In the end Michael Landrud took home the qualifying with a 1.729 lap. That is a new track record.
The race itself saw the current Finnish Champion, Anders Gustafson from Sweden, winning in front of the current World Champion, the Finnish Juha Yli-Sipola.
1. Anders Gustafson
2. Juha Yli-Sipola
3. Jari Portinen
4. Stefan Törnfeldt
5. Per Persson
6. Leo Hongisto
7. Michael Landrud
8. Juha Honkanen


G 27
In G-27 Stefan Törnfeldt took the win in qualifying with his "Beuf" car. 1.957.
The race winner was Juha Yli-Sipola in front of Stefan Törnfeldt and in third Jari Portinen.
1. Juha Yli-Sipola
2. Stefan Törnfeldt
3. Jari Portinen
4. Kimmo Rautama
5. Veronica Trygg
6. Pekka Sippola
7. Lars Harrysson
8. Juha Honkanen

G 7
Expectations were high on a new track record for the G-7 qualifying but doubts were present since the track were full of glue but still slippery!
A whole bunch of people went fast with several low 1.7 laps. Antti Immonen took home the qualifying with a 1.707 lap but due to the high quality of the qualifying he was not safe until the last racer had taken the track.

During the race the track had a lot of bite and everyone wanted to go fast so few backed of using soft wide tires so crashes were hard and frequent. But, to be fast you can't play safe.

First heat
In the main Juha Yli-Sipola took an early lead turning 131 laps on middle lane. Anders Gustafson had second place on 127 laps and Per Persson third with 117 laps.

Second heat
Kimmo runs a 119 heat, Juha a 118, Per 112, Anders 111. Juha has now a 11 lap lead ahead of Anders. Two laps behind Anders we find Kimmo and two laps behind Kimmo Per is running.

Third heat
Mikael Silén is picking up pace running 132 laps. Kimmo ran a 123 laps.
In the total standings Juha has 369 laps. Kimmo 359. Anders 354 and Per 345.

Fourth heat
Mikael is again fastest with a 126 heat. In the total standings Juha leads on 483 laps. Kimmo 477. Anders 470 and Mikael Silén is closing in on 469 laps.

Fifth heat
Mikael is again the fastest on 128 laps compared to Juhas 125. Kimmo ran into problem and Anders is on a gutter lane. Juha is still in the lead on 608 but now Mikael is in second place on 597 laps.

Sixth heat
Again Mikael on 124 laps the fastest with Juha on 123. Juha 731 laps and Mikael 721.

Seventh heat
Mikael is for the fifth heat in a row fastest. Juha on red lane (lane 8! in Mönsterås) has a car that sounds strange. Has he lost a magnet or is the gear broken? Will he have to go to the pits?
It just seems to sound strange and he is doing 112 laps which is good on that lane. Mikael on a middle lane turns 127 laps and is now in the lead with 848 laps compared to Juhas 843.

Eight and last heat.
Now we have Juha as the fastest guy on 130 laps. Mikael turns 126.
Mikael wins on 974 laps. One (1) lap ahead of Juhas 973. Talk about a close finish.

1. Mikael Silén 974
2. Juha Yli-Sipola 973
3. Anders Gustafson 919
4. Kimmo Rautama 903
5. Jari Portinen 807
6. Stefan Törnfeldt 775
7. Per Persson 623
8. Antti Immonen 416


Mikael Silén and his car before qualifying



Thanks to Rolf Lundberg for sponsoring this event and Team 21 for lending out their premises.