Lasse's slotpage
SSC Evening race #14 at the 18:th of October

P-J Kronberg to qualify
Last time I wrongly named the race to race 14. I apologize for that if that is wrong. So this time I will, as you saw in the header, called the race 14, but to cover all bases the results says 15.
This way it will be right. Somewhere :-)
This evening we were eleven cars at the start. P-J showed up. He has not driven since this March but during the evening he picked up the pace fast.
Qualifying
Ove Halvarsson, Enköping, went to the lead and had that until the last driver to qualify. Since that was Olle Söderholm the hope for Ove was not that high.
1. Olle Söderholm 3,902
2. Ove Halvarsson 3,935
3. Lasse Åberg 3,958
More results from qualifying here.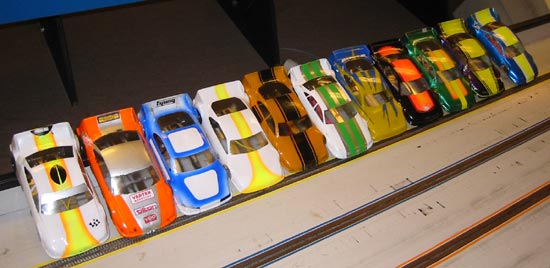 The cars before qualifying

Quarters
B was won by Mats Hummel, 155, in front of Marcus Hammenstad 151 and Robin Lundmark from Västerås 148

A was won by Lasse Åberg 170, followed by Mikael Eskilsson, 164 and Olle Söderholm 163.80.
The difference between second placed Eskilsson and sixth placed Michel Lorin was less than two laps!
All in this quarter went to the A main.
Results Quarter B, Quarter A


B Main
Marcus Hammenstad went into the lead on 38 laps followed by Mats Hummel who started on red and Robin Lundmark both on 36.
P-J had 35 and Peter Lantz 34.

In the second heat Marcus extended his lead to 79 laps with Robin on 77 and Mats on 75.
Third heat saw drama when first Marcus went into pits with a broken gear and then Robin with a broken lead wire. Robin had borrowed a car so not really his fault.
That meant that both P-J and Peter Lantz moved up the ladder.

Mats drove a 41 lap heat and was now alone in the lead.
Marcus drove strong in the last heats and was able to finish in second behind Mats.
In third P-J Kronberg.
Mats Hummel 234,20
Marcus Hammenstad 223,30
P-J Kronberg 218,80
Peter Lantz 213,70
Robin Lundmark 199,20
B-main results here.

A Main
The A main started with some close racing. After the first heat in shared lead was Ove Halvarsson, Olle Söderholm, Lasse Åberg, Mikael Eskilsson and Torgny Nordgren on 41 laps and Michel Lorin on 40 laps.
In the second heat Lasse was able to get into the lead followed by Olle and Ove.
In the third heat Ove lost ground on red and now Torgny Nordgren was in third place behind Lasse and Olle.
Fourth heat went well for everyone.
The fifth heat saw a hard crash involving cars on the straight and Torgny Nordgren was the unlucky one here smashing his guide to pieces.
All the time Mikael Eskilsson had been there driving steady and fast so in the last heat, ending on the qualifying lane, he was able to pass Olle on a difficult red lane to take second place in front of Olle Söderholm in third.

1. Lasse Åberg 255,20
2. Mikael Eskilsson 246,30
3. Olle Söderholm 243,20
4. Ove Halvarsson 239,40
5. Michel Lorin 236,60
6. Torgny Nordgren 209,40

A-main results here.