Lasse's slotpage
SSC Evening race #1 Sport 24 and Cobra, 8:th Feb.
It's not only Saloon that is raced regularly in evenings. Last years a Nascar series has been run. This year two classes are added. Both based on chassis similar to Pla-Fit, MoMo types. The two classes are Cobra and Sport.

Cobra (or Carrol is the God)
One good looking Cobra
Niclas Lindblom took home the qualifying in Cobra with a time of 7,585 followed by Roger Fröberg 7,720, Anders Lattermann 7,824 and Lars Johansson 8,080.

Niclas Lindblom took the lead in the first heat and held until the last heat when Roger Fröberg on orange could catch and pass Niclas on red.
Roger Fröberg 162,35
Niclas Lindblom 160,85
Anders Lattermann 160,70
Lars Johansson 145,85

If you film you use a film camera and if you take photos you use a photo camera. Why take a film with a photo camera? I don't know. Still, I did that. If you don't care about low quality click here to se a 10 second short film from the race.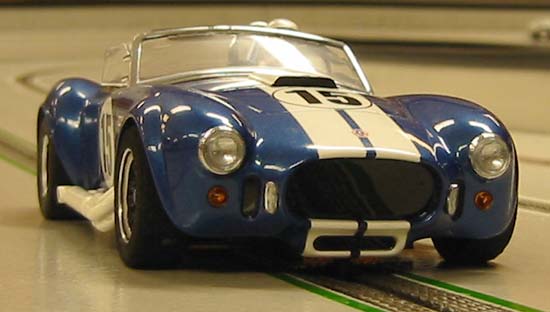 A good looking Cobra again

Sport 24
The Sport 24 is Group C type of cars.
In qualifying Mikael Sundgren was fastest, 6,286 followed by Roger Fröberg 6,315 and Torbjörn Lundkvist 6,420.

In the main Mikael Sundgren and Lars Johansson took a small lead in the first heat but got passed by Lunkan (Torbjörn Lundkvist) in the second heat. From that point he extended his lead.
Behind him it was close with two laps separating the next four drivers.

Torbjörn Lundkvist 191,85
Mikael Sundgren 186,30
Lars Johansson 185,75
Roger Fröberg 185,32
Niclas Lindblom 184,10
Anders Lattermann 165,30