Lasse's slotpage
1/24 Nats, Leicester, England 26-28 August 2006

Normally on Fridays I arrive tired at work around 8.30 to 9 o'clock. This Friday I had already arrived at Stanstead airport in England at that time and was sitting there having they joy of my life until three other Swedes turned up at noon.
We picked up the rental car and we all enjoyed a pleasant ride in the British weekend traffic.
Let me start from the beginning. Before this summer Lars Harrysson and Michael Landrud mentioned that they were going to race in the British championship and they had bought tickets with Ryanair going from an airport in south of Sweden.
After I got permission from work I decided to race. I had the possibility to travel with Ryanair but from another airport. The flight meant that I had to leave my flat at four in the morning. I can not say I did like it but you have to sacrifice some things for fish and chips :-)

When we arrived on Friday evening the track had been assembled and we could start practicing after we had said hello to all our British friend.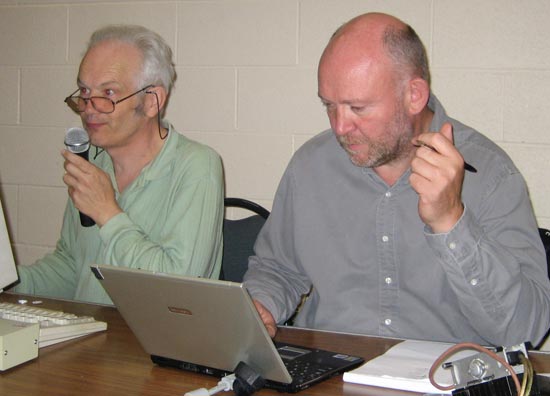 Chris Frost and Rob Lees running the show with the help of others

Production

Dave Coward, James Cleave and Graham Woodward

On Saturday we raced Production 1:24. Fastest in qualifying was Brian Saunders with a 5.115 lap. Ross Grogan 5.200 and Will Stemman 5.234.
I was very pleased with my qualifying performance. The time, 5,501 was not good but still it was a big improvement from my practice times. I ran in the C group where I got second behind youngster Matthew Stewart who overall got a seventh place.
Brian went on to win the race in front of Charlie Gooding and Will Stemman.

Open 12

Well, isn't my car a beauty? At least compared to the red one on the right.



Sunday was time for Open 12. I spent Saturday evening sorting out my ill handling car while the others happily watched my progress from the bar. I got a better car and was happy with that but they were even more happy with their progress.

The qualifying was again won by Brian Saunders, 3,948. Brian also won that race with Mark Harwood in second and George Kimber in third.

Below are some examples of cars. I do not know who the cars belongs to.


Horky chassi BSP chassi


Unknown for me. (Richard Mack?) Could be an old Trigillio

Eurosport 24
Brian Saunders, again, topped the qualifying charts. 3,948. Second Brian Galpin and I was third.
In the race Brian again showed his superiority taken the third race win for the meeting. Second place went to Charlie Gooding and third to yet another youngster, Will Stemman.

Yet again some cars spotted at tech inspection

Horky "2005" model "unknown"
Horky "2005" model BSP


We left the race early to catch our flights. We all had a nice race weekend and we will be back. Lars Harrysson and Krister Helgesson both lives close to their airport but Michael has some drive and tired as he was he took the wrong highway and noticed that somewhat late. Late was the word. He came home at four in the morning.

See you next year