Lasse's slotpage
ISRA North European Championship 2007
25-27 May, Haapsalu, Estonia

1:32 Eurosport
Second race for the day was 1:32 Eurosport with 36 entries.
In qualifying Justus Pohjasniemi, Finland, was fastest with a 3,531 lap followed by Simas Nemira, Estonia 3,536 and Ilmar Viira, Estonia, 3,587.

1:32 Eurosport qualifying results here.


Justus P also won price for best looking car

The surprise here was that the Group A final was not the fastest.
The overall winner Andris Podosinoviks from Latvia drove in the B group and second placed Michael Landrud drove in the C group.

1. Andris Podosinoviks 465 Latvia
2. Michael Landrud 454 Sweden
3. Raivis Jansons 453 Latvia
4. Aivis Ruks 447 Latvia
5. Lasse Åberg 446 Sweden
6. Sergei Matjuskovs 444 Latvia
7. Justus Pohjasniemi 438 Finland
8. Christer Helgesson 432 Sweden


Andris Podosinoviks


1:32 Eurosport Final E here.
1:32 Eurosport Final D here.
1:32 Eurosport Final C here.
1:32 Eurosport Final B here.
1:32 Eurosport Final A here.
1:32 Eurosport Total results

Prize ceremony and dinner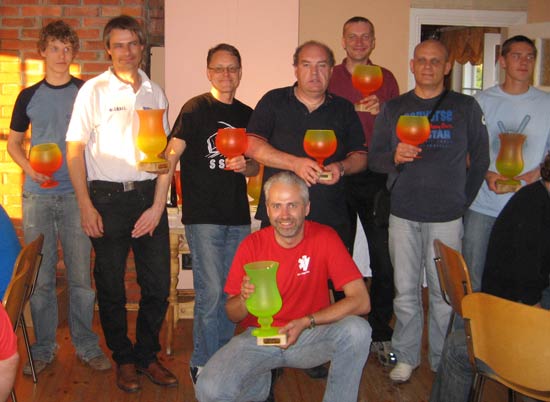 Eurosport 32: Justus Pohjasniemi. Michael Landrud. Lasse Åberg. Christer Helgesson. Aivis Ruks
Sergei Matjuskovs. Raivis Jansons. On floor Andris Podosinoviks.

After the race on Saturday we had a price giving ceremony and dinner out in the countryside.
The organizers came with a bus and we went out.
The dinner was very nice with a lot of cold and hot food. After dinner some of us went to sauna and other just had a good time.

Dinner with a lot of good food


Left. Janis Rage-Ragis giving Lasse a hug. Right, trophy to Landrud for best looking F1 car


Nikolay Dolzhanskiy and his F1 trophy

Later in the evening we had coffee and cake and then we headed home.
The bus home was also nice. People talking, laughing and drinking.