Lasse's slotpage
Team21 ÖstCupen 20 September 2008

Team21 in Mönsterås, Sweden, was the host for one of the rounds in ÖstCupen (East cup).
Wing car racers know the club and the track well since numerous RL Nat's and European- World championships.
This time it was for the Production scale cars plus the Box 12 cars.


Since I visited the club the last time they have repainted the place, put in more lights and made it much more quite with noise dampening in the ceiling.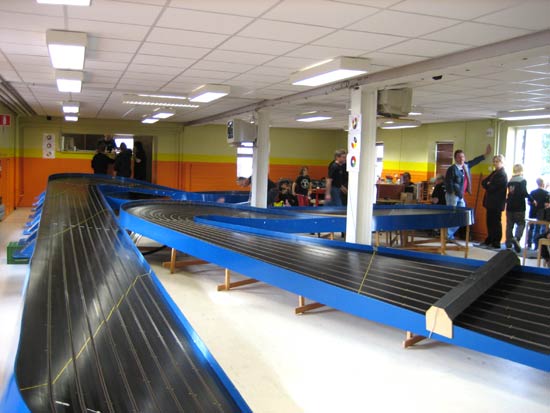 The noise dampening in the ceiling can seen here


The new colors of the room


Tech inspection done by Bengt G:son Nilsson


With 20-30 racers in each of the three classes it was going to be long day but fun.
A lot of young drivers with a good future was to be seen.

Production 1:24 16-D
The first class of the day was Production 1:24 with 16-D engines for the Junior drivers.
This was a tight race and the first victory for Viktor Bergman.
1. Viktor Bergman 147
2. Filip Mood 144
3. Sam Andersson 143
4. Elin Mood 140
5. Jim Andersson 137
6. Joel Hallberg 131
7. Joel Axelsson 127
8. Edvin Ström 126


From left to right: 3:rd Sam Andersson. Winner Viktor Bergman. 2:nd Filip Mood

Production 1:24 G12

Next class was Production 1:24 with G-12 engines for Junior and Senior drivers.
The class was raced mixed with Junior and Senior drivers but in the result list later they were separated for the points in the Serie Öst.
Lasse Åberg took the win after hitting the lead halfway.
1. Lasse Åberg 309
2. Michael Landrud 299
3. Anders Gustafson 290
4. Mikael Svensson 286
5. Daniel Ax 285 J.
6. Simon Gustafsson 263 J.
7. Kristoffer Johansson 263
8. Per Andersson 261


From left to right: 3:rd Anders Gustafson. Winner Lasse Åberg. 2:nd Michael Landrud



Junior. From left to right: 3:rd Martin Helgen. Winner Daniel Ax. 2:nd Simon Gustafsson

Box 12

Last class of the day and event was the Box 12 class.
Anders Gustafson, who took the lead in the third heat, won the A-final in Box 12 in front of Lasse Åberg and Peter Krüger.
1. Anders Gustafson 399
2. Lasse Åberg 393
3. Peter Krüger 369
4. Kristoffer Johansson 368
5. Carl-Johan Runström 362
6. Tom Andersson 328
7. Bengt-G:son Nilsson 323
8. Daniel Ax 320

More results can be seen at Sveslot site.
Serie Öst home page and the results from this race. Current standings and other.