Lasse's slotpage
12 hour Åtvidaberg 14-15 August 2009

On saturday the race started.



Rolf Ax doing technical inspection



The ever present tire cutting


The drivers before the start of heat 1

Vladimir Horky and Carolin Karlsson



Michel Lorin and Torgny Nordgren



Birger Elftström and one of the Bohemia Sekt guys



Heikki Sinisaari and Dan Ax

After the first heat the Czech team "Cuba Libre" had the lead on 964 laps in front of "Ben with friends" 946 and in third "Fast and furious" on 938 laps.

Fabulous Four smashed their chassis in the first heat and used their teched in spare chassis.
Shoes for pigeons hit the wall and had to replace a ball bearing in the rear.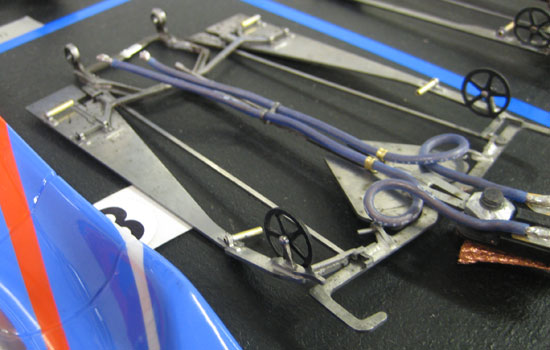 Fabulous Four's car a rather bent

After the second heat Cuba Libre hold the lead 1889 with Ahead of time on 1873 and Shoes for pigeons on 1834.

After three heats the Czech team Cuba Libre was in the lead 2849 in front of "Ahead of time" and 2799 and Ben with friends 2682.

After three heats we had lunch break and the organizers served lunch. The weather was beautiful so most of us sat outside and ate..



Horky and Pavel taking a look at their motor


The top places remained unchanged during heat four and five but the Shoes for pigeons were fast and in the sixth heat the passed Ben with friends for third place.

Team Bohemia Sekt rather well used body


Recek changing gear on the Cuba Libre car


Last heat

After the prize giving we had the opportunity to eat some local fished cray fish


Recek getting help with the cray fish

Final Result
1. Cuba Libre 7417
2. Ahead of Time 7329
3. Shoes for Pigeons 6885
4. Ben with Friends 6750
5. Fast and Furious 6513
6. Bohemia Sekt 6285
7. Antero Rokka Racing Team 6249
8. Fabolous Four 4965

More results here

We had a long day of racing and was tired but we did not leave the race hungry.
During the day the members of the club ran the café and made food for the lunch- and the dinner brake.
I had a nice weekend and look forward to next year.