September 2, 2023
This is it! We're playing at Fredagsmangel with Protector, which is fronted by our former vocalist Martin Missy!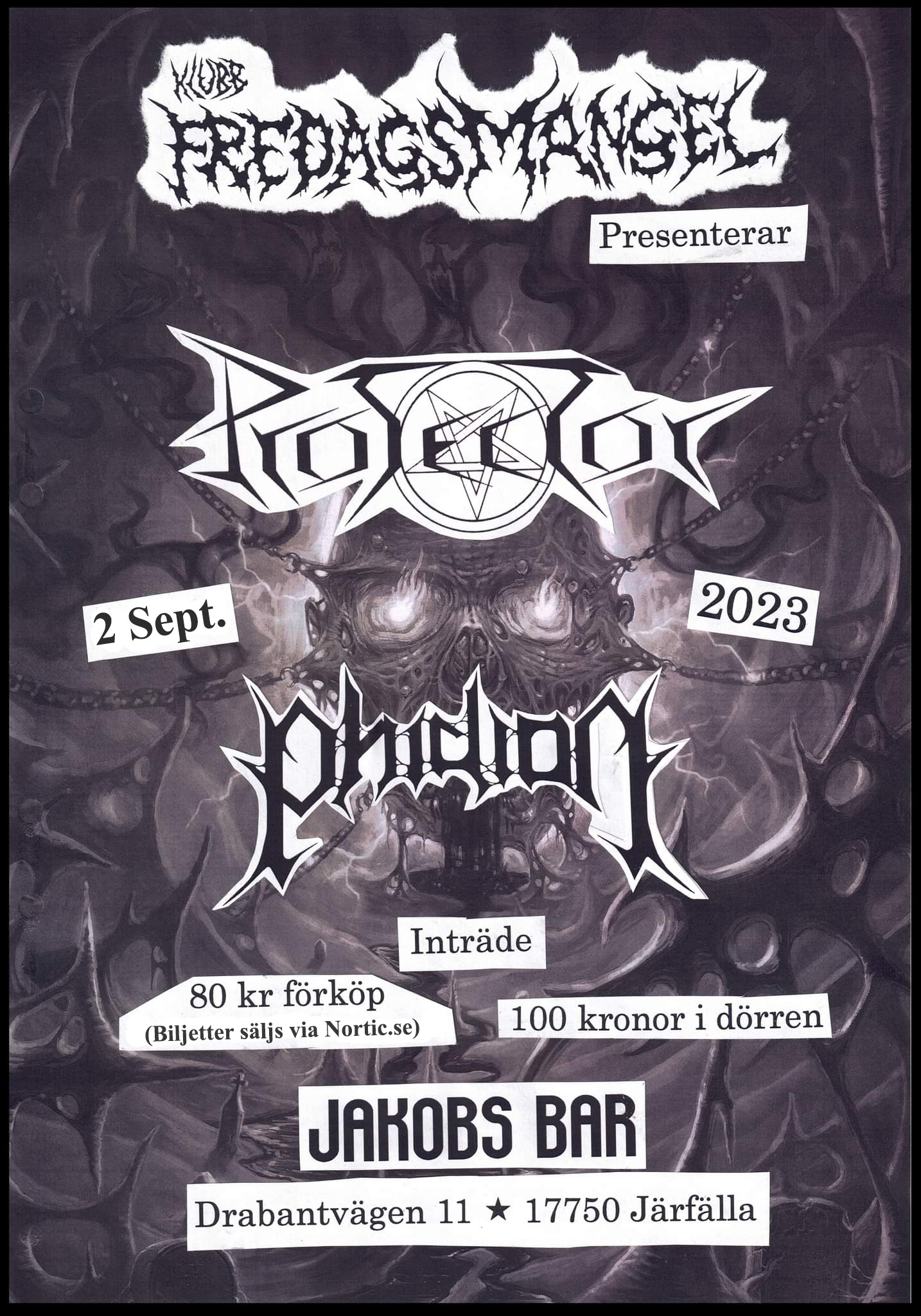 ---
September 10, 2022
We're booked for PK-Festivalen in Vällingby!

---
October 25, 2021
Here's the whole gig at Fredagsmangel on October 16th including Macabre Decay! Click to watch on YouTube!
September 19, 2021
Another gig booked at Öregrunds hårdrocksklubb together with Macabre Decay and Caedem on the 15th of October!

---
August 16, 2021
After an year with little activity, we will return to Jakobs Kök & Bar in Järfälla and once again play Fredagsmangel on October 16 together with Macabre Decay!

---
October 24, 2019
While waiting for our show in Jakobsberg next week we can treat you with another cool thing.
Some great dudes from Stockholm Metal Mania made a web TV interview with us. Really cool stuff. Check it out!

August 25, 2019
Next gig is together with Cryoshock on November 1 at Jakobs Kök & Bar in Järfälla.

February 24, 2019
So its time to reveal our next gig.
In the end of march Phidion is set to spread some Death Metal madness in Dubai, the United Arab Emirates.

January 5, 2019
Todays gig was full of surprises. New songs, new friends and two extra people on stage during Warzone. Stefan Nordström of Desolator joined on on vocals and Fredrik Pihlström played guitar on that and a couple of more songs.
One of them joined the band. Welcome to our old bass player, now our new guitarist Fredrik Pihlström!
---
December 23, 2018
Starting of the next year with a gig on the 5th of January at a familiar venue together with Toxic Crypt and Putrid Vision. We also have a couple of nice surprises, such as t-shirts, beanies, patches and more! The merch section is also updated!
May 16, 2018
We are featured on a compilation cd by Metal Kross Productions. You can get yours for $10.00 from Metal Kross Productions Facebook page
February 25, 2018
Our friend Stefan from bands such as Desolator, Ending Quest and Soliloquium made a vocal cover on our song Warzone a while ago.