Released courses
Carlsberg Old Course in Denmark was released December 1999. It is a fictional course, but it was inspired by some of the beautiful and peaceful public courses in Jutland. Denmark is a very small country, after arriving Frederikshavn with the ferry from Göteborg it takes only one hour from coast to coast by car. Therefore in just eighteen holes you can play in parkland with small lakes, pine forest and seaside golf. There are no high mountains in Denmark (highest 173 meters) but the landscape is often surprisingly elevated.
Some pics of my course Carlsberg Old Course
Review at Puhmans
-
Classic Design Challenge and Baltusrol are two co-designs I have taken part in with several other designers. Pictures of my contributions; my winning hole 18 at CDC and hole 13 at Baltusrol.
-
Kiawah Dunes was my second course, released June 2000. I read an article in a travel magazine and another in Golf Digest about Kiawah Island. The pictures of the beautiful island and its surrounding area in South Carolina inspired me to build a golfcourse there. Since I have never been there, Kiawah Island and Charleston only served as inspiration. But I used the fauna and landscape like dunes and marsh. You will have a view of the ocean on every hole.
Some pics of Kiawah Dunes
Review at Puhmans
-
Stranded Lighthouse was my third course and also fictional, released Dec 2000. There is a lighthouse near the small village of Lönstrup on the northeast coast of Denmark that is not longer visible from the sea, because of the sand that has gathered in front of it from the withdrawn sea. The swedish designer Lars Sandström made the horizon for me, from my own photos and parts of the horizons from Heathland by J.Reel and Augusta by S.Chesney. The course is a heathland/links course with bushes, dunes, ponds and burns and low pine trees. I used over fifty custom objects, mostly pine trees and bushes. But also a lot of critters and farm buildings and stuff. The land it plays on is flat, but has quite undulated fairways and greens.
Here are some screenshots.
Review at Puhmans
-
Bethpage Black, NY USA. This was a co-production with Dominique Bois released in April 2001. Bethpage will host the US Open 2002. The holes were laid out in the designer using satellite photos and the routing technique described elsewhere at my site. Next we made the elevations and tree planting while looking at the hundreds of pictures we grabbed on the net.
Here is a big screenshot of the 13:th hole. Dominique has smaller screenshots of every hole if you click this link. Here is a collage I made for its release.
Review at Puhmans
-
Belle Cove GBC was a co-design with Steve Opfer released in May 2001. Not a co-design the usual way, because Steve made his part in 1997... He gave me green light to remake his great JN5 design as I pleased. I have always liked this course because of its great hole layouts, but it is a bit easy in GBC because of the longer shots and easier putting compared to JN5. I have changed the textures to the same that I used in Stranded Lighthouse and made the course play harder by moving some tees back where possible or push the fairway bunkers forward. The greensites are more undulated and raised, and the bunkers are placed closer to the greens. I have not changed the overall layout of the holes though. There are not many objects, I hope the beauty of heathland nature is enough to make it a good golfing experience.
Screenshots of holes 6-11 here and screenshots of holes 12-18. The Course map.
Review at Puhmans
-
Royal North Devon, Westward Ho! This is the oldest English golf club, founded in 1864, still playing over its original ground. Old Tom Morris rearranged the course in 1860, but the great architect Herbert Fowler made considerably changes early this century. It is almost unchanged since then, so it is perhaps one of the most genuine example of a natural seaside golf. Critters have the right to graze the common ground of Northam Burrows in the southwest of England, that make up the course. They are not only something to avoid with your tee shot, they also keep the course in good shape. The first two and the final two holes are played on a dull and flat piece of land, if not as flat as they look The rest play below some wild ridge dunes lining the Atlantic Ocean and over and next to man sized see rushes that eat every ball that is not on or close to the fairway. Here you can find the Course Info document that came with the gamefile.
This was a co-design with Jay Johnson who has earlier made four fictional linkscourses for GBC. Jay made the unique textures and an original horizon from the area of the real golf course. This was the hardest course to make in GBC that I have been involved in, on flat linksland without any trees or even much gorse. But now when finished, it was perhaps the most rewarding because I feel very proud of what we achieved.
Here are some more unfinished screenshots from within the designer. Six small screenshots from the finished product. There was an offline tournament with GBC friends from Forum held at RND the 7-9 Sep 2001. Here is the final final leaderboard. All rounds were played in Super Challenge mode (skill set to 15-5-0-0-0) med wind, hard greens and pin 1.
There is also a Challenge in the spirit of 1910 described in the textfile that comes with the course. The best result was sent in by Ron from Amsterdam (also known as Zip-A-Dee-Do) with a 66 (-5).
-
Sunningdale Old is a heathland course in England, west of London.
Some sites on earth are sacred. Sunningdale with its two courses is one such place. In fact the whole club, buildings and all, vibrates with some deep magic. There is nowhere quite like it. To play the courses, especially the Old, is to experience just about the ultimate in golfing adventures, with its heathland and forest, it has some of the richest holes on earth. There is something wonderful about Sunningdale and if you've played there I think you'll understand; if you haven't you don't know what you've missed.
For many, the Old is quite simply the best inland course in the country, scarcely altered since Willie Park jnr, son of the first Open Champion and twice winner of the title himself, wove it amongst its heather over a century ago. The land, on which he laid out the original course, had a marked different appearance from the one you see today. When the course was opened in 1901, there were no trees to obscure the view over the heath. Since then, thousands of trees have been encouraged to grow. Today, virtually every hole runs through great stands of pine and birch, creating a wonderful atmosphere of tranquillity that is hard to equal on any other course. In common with all great courses, Sunningdale has a marvellous finishing hole, but one of the hazards at the 18th was created by a German bomb in 1940 which left a huge crater, providing the chance to put in the extra bunker protection the hole enjoys today. Nigel Penn, March 2002
I had wonderful help by Nigel Penn with this design, who lives near the course. He took hundreds of photos with comments, and helped me with advice about elevations and other things that are hard to judge from photos. Lars Sandström scanned and edited all buildings and made the clubhouse oak. Clive Ellison scanned all hole guides from the Strokesavers Guide and built an offline graphic viewer for the surround films he found on a website.
Here is a link to the course site with some history and small pictures.
Screenshots from the game
Hole nr 4 (par 3) An upphill 161 yarder. The sight from the green with 5:th is the most photographed view of Sunningdale.
Hole nr 8 (par 3) A medium to long iron over a valley of heather to a plateau green well guarded by bunkers.
Hole nr 10 (par 4) from the tee . From the hole description in The Strokesavers Guide:
The view from the 10th tee is almost as famous as the one at the fifth. On this occasion there is only one hole that demands your openmouthed attention. According to Peter Dobereiner: "If all the other holes were undistinguished, Sunningdale would still justify a pilgrimage by enthusiasts for the glory of the 10th, one of the most magnificent holes in Britain, or indeed the world".
From the highest point on the course, you drive spectacularly downhill to a fairway that looks far narrower than it really is. The second shot is fired uphill, invariably with a long iron to another plateau green.
-
Svartedalen is a fictional course, situated inland on the swedish westcoast inside of the large island of Tjörn 40 kilometers north of my hometown Göteborg. The ground here is a good place for golf courses; sandy soil and pine trees much like the heathland areas of England. Although the course is not a real one, I wanted to get it right and look belieavable and true to the area. I used up all room for objects in this design, 100 custom ones made by Lars Sandström, Brian Silvernail, Shelby Sanborn, Jeff Reel, Mike New and myself. Lars also edited the background from a J. Reel original, to match it´s location.
-
American Classics Club was an update of an old JN4 course, first released by Jeff Reel in 1997. It is a compilation of 18 famous holes, Oak Hill, Oakmont, San Fransisco, Baltusrol, Oakland Hills, Congressional etc. It was a total facelift, all trees were replanted but the greens left intact for the most part. Two holes were made by designing friends, John A Bernard and Tom Allinder/Scott Antes.
Here are some screenshots.
-
Cedar Ridge was another update of a Steve Opfer JN4 design. The original greens had three flat terraces, that I undulated and then smoothed for a more varied putting experience. I planted some grass and flowers, and added water plants and some houses. Some trees were exchanged to Augusta pines. Textures by Paul O´Brien and J.Reel.
-
Bristol Manor completes my renovations of Opfer courses, almost everything I used here was made by Brian Silvernail; textures, sky, background and five or six trees. Other trees were from the MS Links designer. BM was designed for championship play, and is Steve´s most difficult course with lots of dogleg holes and sloped greens.
-
Isle de Diablo GBC. Another re-design, this one was an early one by one of our most beloved JN designer; DanO Bunch. The location is set on a remote tropical island, but I changed the middle of the course holes to a more inland environment. The overall changes I made for the GBC version were new custom trees, new textures, flattened and deepened a few bunkers, lowered some hills to show the horizon and I added some buildings and objects. I did not touch the original hole layouts and greens much.
Here is a screenshot
-
Gator Alley. A course design started years ago by Jeff Reel. The course is set on the flat grounds of Florida, with marshland surrounding the holes. The idea behind this course is that the routing and bunkering from the tee to the green are influenced by McKenzie and MacDonald, while the green sites are all Ross. I took over nine nearly finished holes, and Chris Clouser laid out the rest for me to ondulate and plant.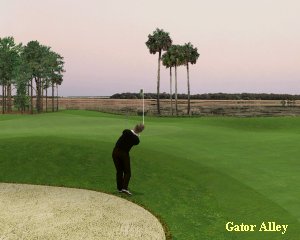 -
Falsterbo. Mike New worked for three years on a fictional design, inspired by the only true swedish links course situated at the southwest tip of my country. When he asked me if I could finish it for him I was delighted, it is one of the most beautiful JN/GBC courses I have seen. Lars Sandström added objects, sand dunes and a new horizon.
---
Other things...
Design Tips for GBC. Random terrain and Greenline.
Tutorial of my routing technique. How to make a real course if you have a hole guide or strokesaver With some help of transparant/clear overhead film, the routing is quicker and more reliable than eyeballing. Tutorial here.
Reviews. Yannick Trives is my guest reviewer of JN courses. Here we go...
GolfClubAtlas The finest real golf courses from around the globe, described in detail with great photos. Interviews with architects and other golf experts. Art and architecture. Discussion forum.
GBC World Tour Leaderboard.