Lasse's slotpage
Salooncupen 5-6 Nov. Västerås, Sweden

All photos by Rickard V.


Slotcity Västerås hosted the fifth round of the Sveslot Salooncup and the wing-cup during the 5-6 November.


Production/Saloon
Saturday started with the Production 1:24 class with 29 entries.


The Production 1:24 cars



Early qualifier Michael Landrud turned an impressive 4,163 lap. He was later beaten by two juniors. In second place Mikael Palmqvist 4,141 and in third place Robin Lundmark 4,160.

Finally one of the seniors put the booth down and showed these young brats. Torgny Nordgren with a 3,979 lap.
All qualifying results here.


After the semi-finals the field of drivers were separated into two main finals. One for junior drivers and one for senior drivers.

Junior main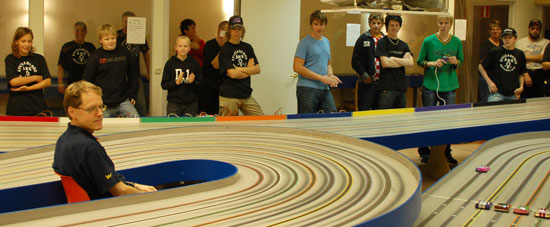 Production main junior. From left to right: Carolin Karlsson, Daniel Ax, Erik Jonsson, Christoffer Karlsson, Fredrik Hedberg, Marcus Vandersson, Robin Lundmark (driving), Mikael Palmqvist.

Mikael Palmqvist took an early lead closely followed by Robin Lundmark. These two drivers separated themselves from the rest of the field.
When the main was over Mikael Palmqvist had won yet another junior main. Robin Lundmark in second and Christoffer Karlsson in third.

1. Mikael Palmqvist 312
2. Robin Lundmark 304
3. Christoffer Karlsson 279
4. Fredrik Hedberg 257
5. Daniel Ax 244
6. Carolin Karlsson 203
7. Marcus Vandersson 169
8. Erik Jonsson 57


Seven of the eight drivers from the junior main

Junior main results here.
Senior main

Cars from left to right belonging to:
Dan Gustavsson, Torgny Nordgren, Uffe Törn, Lars Harrysson, Michel Lorin, Ove Halvarsson, Lasse Åberg, Michel Landrud

Michael Landrud was an early pace setter but crashed into problems already in the first heat. Lasse Åberg took the lead after the first heat.
In the second heat Michel Lorin went into the lead together with Lasse.
Third heat saw four drivers close together. Michel in the lead 113 laps with Ove Halvarsson, Lasse and Lars Harrysson on 112 laps.

From left to right: Dan Gustavsson, Torgny Nordgren, Uffe Törn, Lars Harrysson, Michel Lorin, Ove Halvarsson, Lasse Åberg, Michael Landrud

After the fourth heat Michel was in the lead with 151 laps with Lars Harrysson in second 150 and Lasse Åberg in third 149
In the fifth heat Lasse took over the lead and held on to it until the end. Michel looked certain to grab second place, and did, despite Ove Halvarsson driving three really good heats at the end.

1. Lasse Åberg 307
2. Michel Lorin 292
3. Ove Halvarsson 289
4. Lars Harrysson 287
5. Uffe Törn 283
6. Torgny Nordgren 270
7. Dan Gustavsson 261
8. Michael Landrud 247


From left to right: Michel Lorin, Lasse Åberg
Ove Halvarsson.

Senior main results here.

Next page